Are you looking for a Modern, Efficient and Easy to use PHP Script, to Manage your Online Document Library?
Look no further! Today we present you "Dokky", Your new Tool for Sharing, Organizing and Viewing Documents Online.

Dokky is a Standalone Complete Solution that allows you to create a Document Sharing and Viewing Website, suitable for Professionals, Web Agencies, Bookstores, Comic shops …and even Grandmothers who want to Share their Cooking Recipes!
Dokky main Features?
Backend configuration:
Ads ready: Dokky allows you to easily integrate Ads on your website, increasing your Revenue.
SMTP mail: send password reset emails to users quickly and securely.
Domain: Installable on Shared Hosting, subdomains or folders, offering flexibility and ease of use.
SEO ready: Dokky is fully Optimized for Search Engines, with configurable meta, tags and descriptions.
5 Colors Available: Personalize your Website by choosing from five different color options.
Frontend features:
404 error pages and cookies: Dokky offers predefined pages to manage cookies errors and warnings.
User registration, login and password recovery: A complete system to manage access to your site.
Infinite scroll: Easily navigate through documents thanks to the infinite scroll with Lazyload.
Preview files in high quality: View files in doc, docs, docx and pdf formats.
Categories, descriptions and tags: Organize your documents efficiently and intuitively.
Search by tags and keywords: Find documents easily thanks to the advanced search functions.
Statistics and user profiles: Dokky offers a detailed overview of user activities on the site.
Editing, deleting and sharing functions: Manage documents easily, share them on social media, via embed code, download or QR code.
100% responsive: Dokky is optimized for all devices, ensuring a pleasant user experience.
Comments: Comments via Disqus
Why choose Dokky?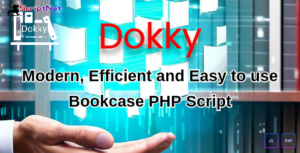 Dokky Script is the ideal tool to increase your Domain Authority, improve Branding and generate new Links. Its low cost and intuitive interface make it accessible to everyone, from professionals such as lawyers and doctors, to web agencies, bookstores, comic shops and yes…even Grandmothers who are passionate about Cooking!
Dokky installs in minutes and offers you an effective and attractive way to share and view documents online.
Ultimately, Dokky is a "wild card" for many needs.
With its advanced features and customization flexibility, Dokky is the ideal tool for anyone who wants to create and share documents easily and efficiently. Its ease of use makes it perfect even for those who don't have advanced technical knowledge. So what are you waiting for? Try Dokky now and find out how it can simplify your life!