Introduction to MyIPFS Script
MyIPFS Script is an innovative Gateway to the IPFS Storage Network that offers a range of Powerful Features and a user-friendly interface.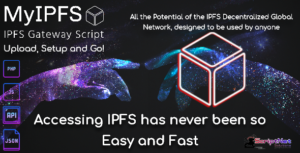 Whether you're looking to store and share files securely and distribute content on a global scale, MyIPFS has everything you need to succeed. With its commitment to security and privacy, MyIPFS is the perfect tool for unlocking the full potential of the IPFS Network; MyIPFS ensures that your Data remains Safe and Secure at all times.
With MyIPFS, you can easily store and retrieve Files on the IPFS Decentralized Network without having to deal with the complexities of the command line interface. Whether you're a seasoned developer or a novice user, you'll find everything you need to get started with MyIPFS!
Features:
Front end Optimized landing page
Backend login Access, with change of credentials
Intuitive Global Stats
Add/edit API Keys Providers
List of your Files, unique CID and Search
Copy Hash, Direct link to files on IPFS, delete from list
Data backup of your List files
Upload your content to 4 different IPFS Storage
Download any File from IPFS by CID
Access and Upload log
Comprehensive internal section with Instructions and FAQ's
No Database, Full script less than 15MB
Installable on Shared Hosting, Folders or Subdomains
Storing and Sharing Files Securely
The Key feature of MyIPFS is its ability to store and share Your Files Securely on IPFS: you can easily upload Your Files to the IPFS Network and share them with others in a completely decentralized manner. No files on your Best Web Hosting: this means that Your Files are stored across multiple nodes on the network, making them virtually impossible to hack or tamper with. Some common use cases include content distribution, data backup and archiving, and secure file sharing.
With MyIPFS, you have complete control over your data and can access it from anywhere in the world, without any restriction.
Distributing Content on a Global Scale
MyIPFS is the perfect tool for
distributing content on a Global scale
. With MyIPFS, you can easily publish content to the IPFS network and make it available to anyone you want,
anywhere in the world
. This allows you to reach a
global audience without relying on traditional centralized distribution channels
. With MyIPFS, you can optimize your content distribution strategy and reach more people than ever before. Another key feature of MyIPFS is its speed and reliability. The script is optimized for performance, ensuring that files are uploaded and downloaded quickly and reliably; this makes it ideal for use in a wide range of applications.
User-Friendly Interface
Despite its advanced features, MyIPFS is incredibly easy to use. The platform features a user-friendly interface, 100% responsive that makes it easy to upload Your Files and manage Your contents. Whether you're a seasoned developer or a non-technical user, MyIPFS has everything you need to get started.
In addition to its intuitive interface, MyIPFS also provides extensive instructions and support resources.
If you ever have any questions or issues, you can always turn to the ScriptNet Solutions Support for help and guidance, 24/7.
So why wait? Purchase and Download MyIPFS today with the "Launch Discount" of an incredible 45% off, and start exploring the Future of Decentralized Storage and Sharing!